The average bespoke suit is made from over a kilo of wool and requires 33 000 stitches and 18 hours highly skilled craftsmanship to be finished. Expertly tailored suit promises to make his owner looks taller, slimmer and broader-shouldered - results that many men are ready to pay for.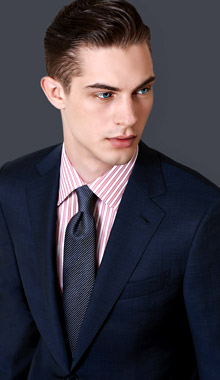 If you have $25 000 to spare, you can purchase a bespoke Ermenegildo Zegna suit made of Australian wool. The Italian fashion house is one of leaders in the prestige suit market. Zegna has three lines under its own brand, but also produces suits for many luxury labels, including Versace, Armani Collezioni, Gucci, Yves Saint Laurent and Tom Ford.
'It's absolutely worth the expense when you wear them every day', says Paul Goldsmith, who is a loyal Zegna customer and proud owner of several of their suits. 'You're not mucking around in these suits - you know you're in the best, that it will last for years, and people notice.'
Luxury menswear manufacturers invest heavily in cutting-edge nanotechnology to produce suits made from fabric that does not crease, that is stain- and water-resistant and thermo controlled. Melbourne-based menswear label Giotto New-Gen pioneered the use of a technology called ColdBlack. The fabric, treated to protect the wearer to an equivalent of an SPF30, radically reduces the absorption of heat rays. The result is a fabric that does not fade and a suit that keeps the wearer cooler, even in direct sunlight.
For more information visit: Theherald.com.au
Photo: Zegna.com
More about Made-to-measure suits