Fall-Winter 2015-2016 fashion trends from Pitti Immagine Uomo 87
Dean Manev, the Trade Director of Men's Fashion Cluster, visited Pitti Immagine Uomo 87 - one of the world's most important platforms for men's clothing and accessory collections, which was held January 13-16, 2015, in Florence, Italy.

So, he shared with us, which were the brightest fashion trends in menswear for Fall-Winter 2015/2016, that attracted his attention.

'Well, during the event, we saw a lot of Savile Row tailored suiting, short booties for men, and parkas, parkas and more parkas. And, of course, I can't miss mentioning pink for men - take a look at Hood By Air and Marni Fall-Winter 2015/2016 collections. In accessories - the over sized furry briefcases were the biggest trend'.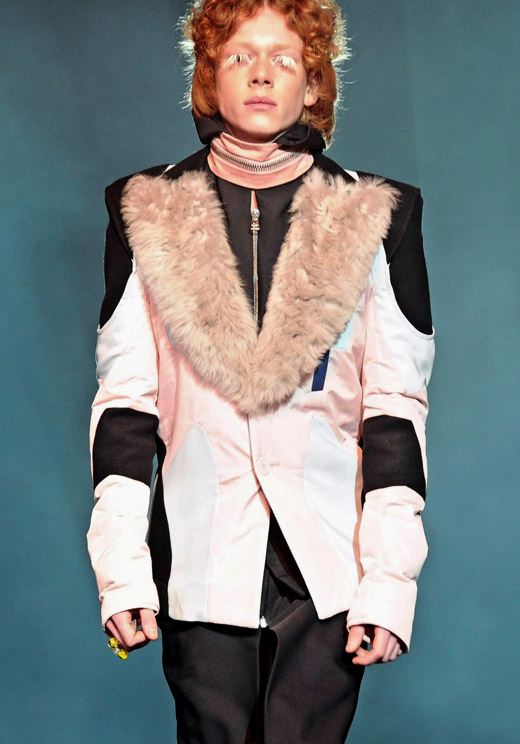 He also mentioned that the street style of the menswear elite included these cool pieces:
- double-breasted waistcoats
- camel topcoats;
- turtlenecks;
- denim shirts;
- white denim trousers;
- layered denim jackets.

Photos:
1. A model presenting creation from Marni Fall-Winter 2015/2016 menswear collection during the Pitti Immagine Uomo 87
1. A model presenting creation from Hood By Air Fall-Winter 2015/2016 menswear collection during the Pitti Immagine Uomo 87
© MAURIZIO DEGL` INNOCENTI/EPA/BGNES
Added on: 19 January 2015|17:04:38
Hits: 1180
Author: veselka
Category: THE MEN'S SUIT, Menswear Fashion Trends
Tags: Fall, Winter, 2015, 2016, Pitti Uomo, men's fashion, men's suit, menswear, fashion trends, pink
Number of comments (0)

Add comment